Thursday, February 17, 2005
Meet Harold
Named after Harold and the Purple Crayon, Harold is my new pet duck. My obsession with ducks goes way back to a trip to the San Diego Zoo. They had one of those tanks where you could see above water and below water at the same time. I cracked up laughing at the ducks. It always looks like they are swimming so gracefully, but underneath they are paddling madder than hell. So thus started my love for ducks (besides the fact that I grew up watching Donald Duck, and Duck Tales).

Here is the infamous San Diego Zoo duck:
Here is a duck balloon taken at the Albuquerque International Balloon Fiesta:

Here are the "Outcast" ducks at UNM. These three swim at the other end of the pond, and don't socialize with the other ducks.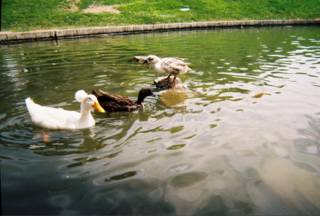 Here are some non-outcast ducks at UNM
So everyone say hi to Harold...my newest duck friend, and make him feel welcome. He is a little shy at the moment. But if you click on him he might like you :-)